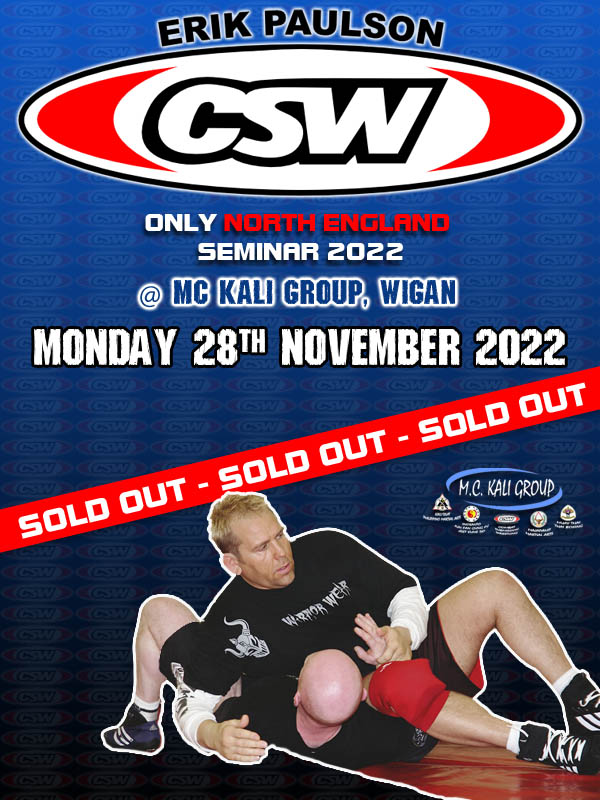 **THIS EVENT IS NOW SOLD OUT**
We're pleased to announce that coach Erik Paulson will be holding a UK seminar at our gym in Wigan on Monday 28th November 2022 at 6.30pm.
It will be his only North England seminar of 2022 so you do not want to miss this!
The event will be a no-gi grappling seminar based around Erik's Combat Submission Wrestling, a martial arts system which we teach here at the club. If you train in any sort of no-gi grappling, such as Brazilian Jiu-Jitsu or catch wrestling, then you'll love what techniques coach Erik has in store for you!
Erik Paulson is a former Shooto World Champion and is known for being a submission specialist. He is also a 5th degree black belt in BJJ and has trained under greats such as Rick Faye, Larry Hartsell, Ajarn Chai Sirisute, Yori Nakamura, Billy Robinson, Rigan Machado and the legendary Guro Dan Inosanto. He first studied Brazilian Jiu-Jitsu with Rorio Gracie, Royce Gracie and Rickson Gracie in 1989. Erik is famous for his unbelievable repertoire of submission holds and is recognised as a virtual encyclopedia of leg locks.
This is not a gym exclusive seminar so grapplers from other clubs are most welcome to attend.