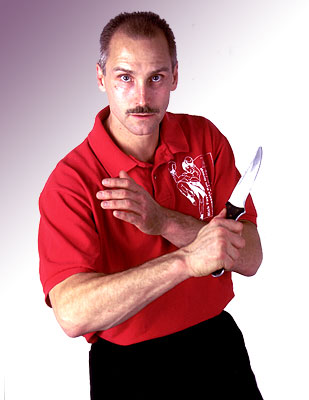 Guru Rick Faye
Full Instructor in Jun Fan Jeet Kune Do
Full Instructor in Philippino Martial Arts
Full Instructor in Muay Thai under Ajarn Chai
5th Level Instructor in Maphilindo Silat
Instructor in Wing Chun Gung Fu
Instructor in Combat Submission Wrestling
Dedicated to the highest levels of training and individual improvement in the martial arts, Minnesota Kali Group (MKG) owner/head instructor, Rick Faye, is considered one of the top instructors in the JKD family world wide. Rick's impressive reputation for seminars on the art, self-defense and law enforcement topics keep him in demand locally, nationally and internationally.
His credentials include 2 senior full instructorships under Dan Inosanto (Jun Fan/Jeet Kune Do and the Filipino Martial Arts), a 5th level Maphilindo Silat instructorship under Guro Inosanto. Rick is a regional director for the Thai Boxing Association, U.S.A. and holds the level of Full Instructor under Ajarn Chai Sirisute. He also holds instructorships in Wing Chun Gung Fu, Sensei Erik Paulson's C.S.W. curriculum (Combat Submission Wrestling) and numerous other arts.
Rick's devotion to the art is evidenced by his belief in constant training of the basics and an impressive attention to detail. This enthusiasm is integral to his teaching and helps his students learn and maintain their excitement. The results of this work ethic are obvious in both his art and his teaching..
Sifu Mel Corrigan, senior instructor at our club, is a Level 3 Instructor under Guru Rick Faye.
View our Rick Faye Seminar galleries below.